25 Positive Self Love Affirmations + Free PDF Worksheet
Positive Self Love Affirmations: The Perfect Way To Practice Loving Yourself More
Positive affirmations have become a hot topic these days and for good reason. Using affirmations on a daily basis is a great way to practice self love and bring positive thoughts to the forefront of your mind.
The habit of repeating self love affirmations as part of your daily routine will remind you of the wonderful things you have in your life and will also help you reprogram your thoughts to push negative thinking out of the way.
Never forget – you are worthy of love and that starts with self love.
Are you ready to bring a little more positivity and self love to your day?
Well, let's begin…
So, what exactly is self love?
Many of us are so focused on everyone else in our lives – our kids, our spouses, our parents, our friends… coworkers… neighbours.
The list goes on. So we need to understand that self love is needed to give ourselves the balance we need.
These loving affirmations can boost low self-esteem and give you strength and positive energy to get through difficult times.
"Self-love is not simply a state of feeling good. It is a state of appreciation for oneself that grows from actions that support our physical, psychological and spiritual growth". – Khoshaba
Self love is appreciating your positive qualities in life and reminding yourself of them.
---
Related:
---
The Benefits of Positive, Daily Affirmations
Psychology Today has a great definition of why people use affirmations…
"…affirmations are used to reprogram the subconscious mind, to encourage us to believe certain things about ourselves or about the world and our place within it.

They are also used to help us create the reality we want—often in terms of making (or attracting) wealth, love, beauty, and happiness."
---
Related: What are Affirmations & How to Use Them
---
In a nutshell, using positive affirmations can help you:
Reduce negative thoughts and negative self-talk
Help you see the good things you have to offer yourself and others (maximizing self-confidence)
Daily positive affirmations focused on self-love help you feel better in your own skin, reducing low self-esteem
Improve body confidence and body image
Giving yourself unconditional love through affirmations positively impacts your subconscious mind
Helps you have a positive mindset in your day-to-day life
How To Use Daily Self Love Affirmations Effectively
So often we let our inner critic and negative emotions take over.
Therefore, it's good to have a plan on how to incorporate positive self-love affirmations (positive statements) into your daily routine.
Here are some great examples of how you can use these positive statements…
1. Create time in your daily schedule for your affirmations
I highly recommend adding daily self love affirmations to your morning routine or bedtime routine.
It's a great way to focus on building your self-esteem as well.
Get out your list of positive self love affirmations and choose one to focus on
Stand in front of a mirror, close your eyes and take a deep breath
Open your eyes and say your affirmation 3 times
Now think of what this affirmation means to you in different aspects of your life
Repeat your positive affirmation another 3 times so you can really let it sink in
Throughout your day leave reminders of your self love affirmation by writing it in your journal, daily planner or calendar
This practice only takes a few minutes but can make a huge impact on your day and your life.
2. Write Your Own List of Self Love Affirmations
Once you get in the habit of practicing daily affirmations I would love for you to write your own self love affirmations.
This will make your affirmations more personal and relevant to your specific needs today.
To write your own affirmations get a good quality journal or notebook and a pen you love to write with.
Begin by writing down your personal thoughts – good and bad.
Now circle the negative thoughts and feelings that you need to change into positive thoughts
Repeat this and circle the positive thoughts (with a different colour pen) that you want to remind yourself of
Write 2 to 3 affirmations for each thought that you feel will help you focus on a positive outcome
**Scroll down to download your Free Self Love Affirmations PDF Worksheet so you can start creating your own affirmations.**
---
Related:
---
This post contains affiliate links. This means I may earn a small commission if you decide to make a purchase through my links, at no extra cost to you. Read my disclosure info here for more info.
25 Positive Self Love Affirmations
I created a list of positive affirmations that I want you to read, take in and think about when you need a reminder of how worthy you are.
Worthy of happiness, appreciation and beautiful experiences.
25 Positive Affirmations for Self Love. Get them here, plus download the free printable and worksheet to create your own 🖤#affirmations #selflove
Click To Tweet
Practice these Self Love Affirmations Daily to Make the Biggest Impact.
These powerful affirmations will help you live to your fullest potential and give you the inner strength you need for inner peace and love.
1. I deserve to be appreciated
2. I am strong
3. I can do this
4. I have beautiful qualities to offer this world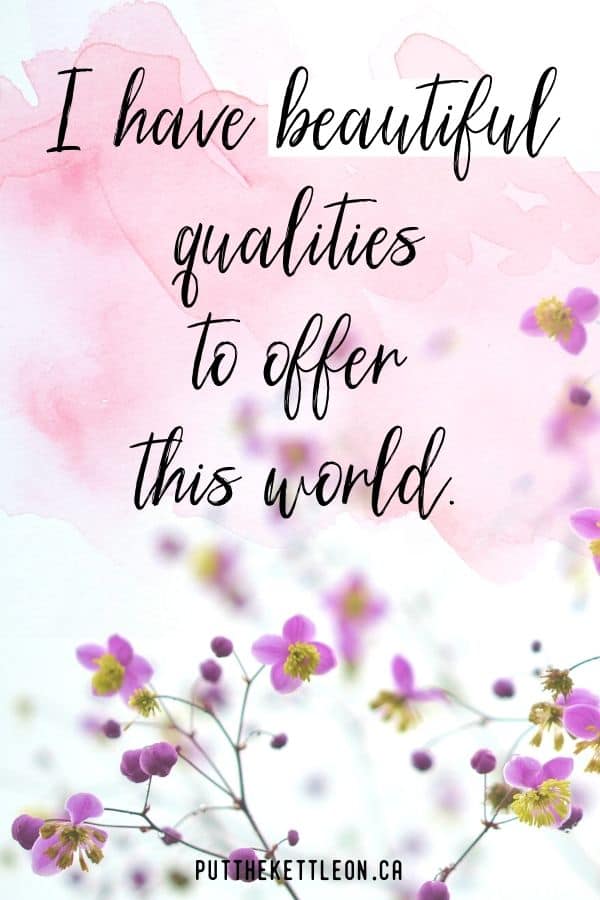 5. I am proud of who I am
6. I am beautiful inside and out
7. I am kind
8. I am grateful for the gifts in my life
9. I am enough
10. I am stronger because of my struggles
---
Related: 50 Mental Health Affirmations for Depression & Anxiety
---
11. I am attracting positive experiences in my life
12. I am open to new opportunities
13. I deserve respect and loyalty
I deserve respect and loyalty... read more positive self love affirmations here... #selflove #affirmations2020
Click To Tweet
14. I will achieve my goals
15. I am successful
16. I appreciate what I have in life right now
17. I choose to see the positive, even in tough times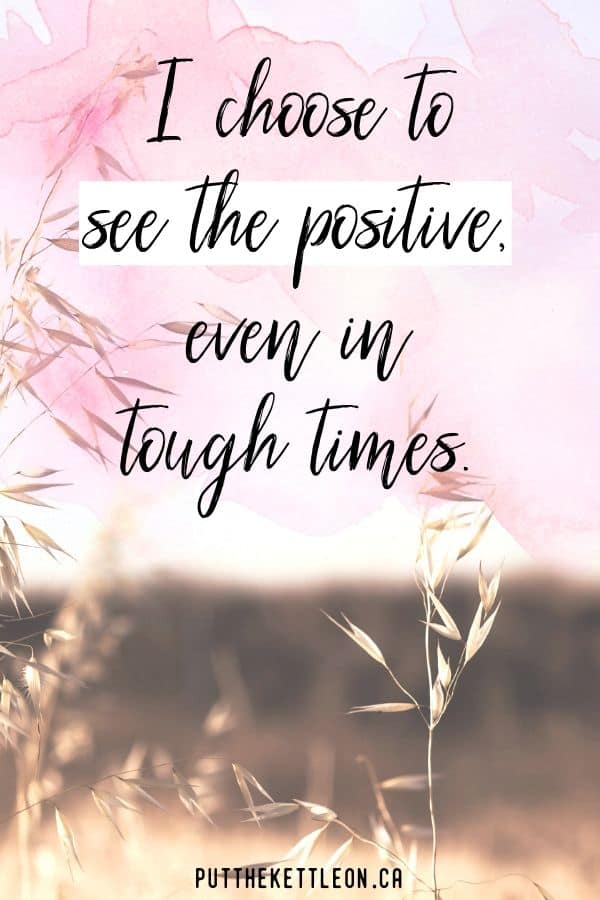 18. I embrace change
19. I deserve peace
20. I will stay away from negative forces in life
21. I will follow my heart
22. I am confident
23. I am blessed
24. I am a gift
25. I will look after myself
Click Here to Download Your 25 Self-Love Affirmations + a Free PDF Worksheet
---
Access This New Self Love Resource!
These self-love affirmations (+ worksheet) are also included in my new Self-Love Guided Journal, now available on Amazon!
Introducing… Love Yourself First Daily Guided Journal
The journal includes 30 days of self-love journal writing prompts. Plus self-love affirmations, colouring pages and self-care ideas.
---
Share 3 Self Love Affirmations in the Comments Below
That's right! I want you to share 3 self love affirmations that speak to you in the comments section of this post.
Choose 3 affirmations from the list above or,
Share a personal self love affirmation of your own.
This is your first step to begin practicing daily affirmations.
Go to the comments and see my 3 affirmations that are important to me right now.
Related Self Love and Self Care Articles:
For more inspiration and to get the latest post from Put The Kettle On, let's connect!
Pinterest | Facebook | Instagram | Twitter
Yolanda xo