15 Ways to Be Intentional in Life
Being intentional is one of the buzz phrases we all hear, but what does it really mean and how can we be intentional in our daily lives?
In this article, I'll be digging into all things 'intentional living' and sharing some important ways you can be more intentional in your life.
What is intentional living?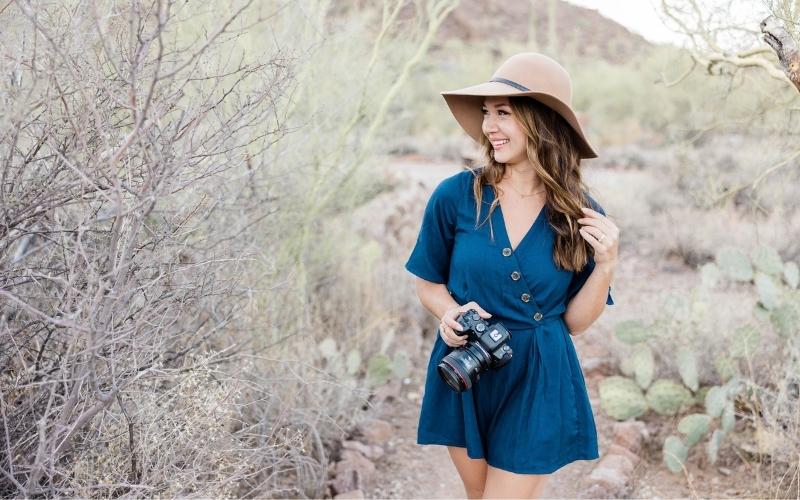 Intentional living is about being deliberate with your life… doing things with intent and purpose.
To be intentional in life means you live each day with purpose.
This quote by Richie Norton (author of Résumés Are Dead) describes intentional living perfectly…
"Intentional living is the art of making our own choices before others' choices make us."
What Does it Mean to Be Intentional?
Creating an intentional life means you are in charge; you have a purpose and you're following through on that purpose.
By focusing on the outcome you want gives you the motivation to take action and live your life with intent.
Being intentional means you aren't living on auto-pilot. It means you have the power and choice to create the life you love.
Why You Should Be Intentional
There are so many wonderful reasons to be intentional in life. To be intentional means you can:
Create purpose and happiness in your day
Achieve your goals
Have a better work-life balance
Make decisions easier
Improve your emotional health
Reduce stress
Take charge of what's important to you
Quite simply, living with intention can change your life.
Want to be more intentional in life? Get started with these 15 tips… #intentionalliving
Click To Tweet
–
This post contains affiliate links. This means I may earn a small commission if you decide to make a purchase through my links, at no extra cost to you. Read disclosure here for more info.
–
15 Ways To Be Intentional Every Day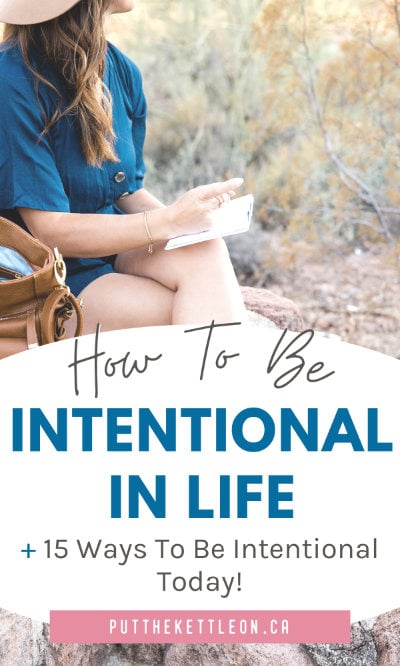 1. Plan Your Day
One of the most important factors about being intentional is planning.
Having a plan for the day ahead allows you to take action so you can follow through on what's important to you today.
You can plan anything – it doesn't have to just be related to work, chores or things you feel you have to do.
Go ahead and plan the things you want to do, especially if you feel you never have the time. I'm referring to planning things that nourish your soul… reading a good book, calling your best friend, taking a long walk.
Tip: Be realistic with the time you have.
Even if you want to do a lot in one day, one week or one month it's still better to select a just couple of things you can definitely create time for.
Creating a massive plan that is impossible to pull off will only lead to stress and that is not what being intentional is about.
We want you to enjoy intentional living and have a positive experience so taking little steps, in the beginning, is best.
2. Commit To Your Plan & Follow Through
To be intentional is more than having a plan – it's to follow through on your plan! To make this happen it's important to be intentional with your time.
Committing to a plan can happen with the help of two key items… Having the right mindset and creating time for your plans.
In order to have a mindset where you'll have an intentional day can start with a few helpful actions. You can do the following:
Recite affirmations to yourself. Something like "I will follow through on my plans today. I am strong and know I can stick to my plans. I deserve to be intentional today and every day". What you decide to say to yourself is completely personal, so write your own intentional affirmations and literally say them out loud to yourself in the mirror. It might feel a little strange at first, but I promise, it does make a difference.
Write down your intentional affirmation for the day. A sticky note is perfect for this, or writing your affirmation in your daily planner is another great place.
To create time for your plans, I want you to literally block out time in your calendar for this. When it comes to that time focus on nothing else.
---
Related: What are Affirmations & How to Use Them
---
3. Choose How You Want to Feel Today
How you feel comes down to your thought patterns. It's easy to say 'stay positive', but much easier said than done.
This is where mood tracking can be a helpful exercise. You can track your mood throughout the day and you'll start to notice how your thought patterns are connected to your activities.
Download this free mood tracker to give it a try.
By seeing what brings you joy or what can make you feel otherwise gives you the power to choose how you want to feel on a given day.
4. Be Intentional with Your Decisions
The decisions you make in life can be tied to your goals, plans and time as we mentioned above but another key area is your values.
When making decisions on anything always think about how they align with your core values.
This can be applied to small decisions or big decisions. Let me share a couple of examples:
Be intentional with small decisions:
Do you want to be more sustainable in life? You can make the decision to reduce your meat intake to once a week.
Be intentional with big decisions:
Do you want to make more money so you can support your family more? You can make the decision to get training and find a higher-paying job.
Whether your decisions to be made are big or small always think about your beliefs, your values and what matters.
5. Dedicate Time to What's Important to You
This really comes down to prioritization. If family dinners are extremely important to you, then make an effort to prioritize this.
If you aren't able to have a sit-down family dinner every night that's okay – start with one or two good sit-down dinners a week.
The point here is to dedicate the time to what matters, even if the outcome isn't exactly how you want it at first.
In the case of having family dinners, dedicating time could look like this:
Talk to your family and agree on the best day of the week to have a sit-down family dinner
Make sure that everyone knows the time
Get your family involved in choosing a special meal you can all have together
Meal prep, make dinner and enjoy
Appreciate what you achieved by being intentional
This process can similarly work for anything – working out, learning a new skill, having a regular date night, etc.
Intentional living is the art of making your own choices before others' choices make us – Richie Norton #intentionalliving
Click To Tweet
6. Be Kind to Yourself
Feel like you need a bit of a pick me up? Never forget that you can be your biggest advocate and this starts with loving yourself.
Don't rely on anyone else to look after you – you can do this yourself. Once you know how to be kind to yourself and love yourself to the fullest you can then appreciate any other love that comes your way – but it all starts with you.
Here's a resource to get you started:
Love Yourself First Daily Guided Journal
I created this journal to help you practice self-love every day to find balance, create a positive mindset and give yourself permission to grow in meaningful ways.
A journal and workbook full of self-love writing prompts to build your confidence and remind you of the beautiful things life has to offer.
♥ Remind yourself how unique and special you are
♥ Focus on your positive experiences in life
♥ Reflect on things that matter to you
♥ Experience new ways to feel good about yourself
Find Love Yourself First Daily Guided Journal on Amazon.
7. Avoid Negative Distractions
These are different for everyone but the general culprits are anything that sucks your time away!
Social media
Channel surfing
Talking to negative people
Doing things to pass the time because you don't want to do what's really important
Sure, you can still allow time to pass with some of these distractions, but you don't want to wonder where an entire evening or weekend went.
I recommend allocating a short period of time to something like social media. Set a timer for 30 minutes and then STOP!
The same goes for TV – watch a show you love, but don't just watch tv for the sake of it.
Instead, you can read this article again and get pumped to be more intentional in your day!
8. Create a Morning Routine
This intentional living step is designed to give back to you.
Ask yourself this…
Are you happy with your current morning routine?
Do you want to start your day in a different way?
You can create a morning routine that can make your life easier throughout the day, whether that's by practising self-care first thing or meal prepping for dinner.
The perfect morning routine can improve your productivity, create better work-life balance and even improve your relationships (especially if you are practising self-care in the morning).
A good morning routine means you will be less overwhelmed during the day.
>> To get inspired check out these morning self-care ideas you can add to your routine.
9. Focus on the Outcome
One of the best ways you can be intentional is to focus on the outcome of any given situation.
You can use the power of the law of attraction… to concentrate on a positive outcome. A great way to do this is with a vision board.
Here are a few ways you can also focus on a positive outcome.
Praying
Affirmations
Sharing your ideal outcome with others
Creating steps to make that ideal outcome a reality
10. Be Positive
In life we all go through trying times, some worse than others, but we still have a choice on how we react to any given situation.
We can choose to focus on positivity and not dwell on the negative.
---
Now, if something awful happens I'm not asking you to find good in that specific situation, but… I am asking you to take a step back and try to take a mental snapshot of other positive experiences.
This won't replace a negative experience you are going through right now, but it may give you a little reminder that you have positivity surrounding you in other ways.
---
Depending on your situation this can be more challenging at times, however being intentional with how you think about a situation can be a powerful tool to help you heal, even if it's just a little.
11. Start a Good Habit
Changing the smallest of habits can lead to a positive outcome on many fronts, so being intentional by starting a new good habit can really make you feel rejuvenated.
Check out this list of 70 good daily habits you can introduce into your life, covering:
Health and wellness
Self-care
Mental health
Relationships and Social
Organization
Money
Career and work
12. Practise Mindfulness
Practising mindfulness helps you focus on the present moment. It's also a wonderful way to reduce stress and anxiety and just be.
Many people think that the main way to practise mindfulness is through meditation, however, there are other fun ways you can be mindful in your day.
Check out these simple mindfulness exercises you can try and see what works best for you.
13. Find Contentment in Your Day
Finding contentment truly comes down to being grateful for what you have in life right now. Not what you wish you could have or where you wish you could be – but looking around you and finding joy.
To be intentional through the practice of finding contentment in your day can help you appreciate the little things you may overlook and the people you may take for granted.
Finding contentment within yourself is also the path to enable you to thrive in other aspects of life.
Look around you and take note of what you love in life.
Related reading: 52 Gratitude Journal Prompts to Increase Happiness
14. Live in the Present
Living in the present moment can be done through mindfulness like mentioned above, but there are other great ways you can be more present.
If you're a bit of a worrier living in the present can be especially effective as it helps you focus on now – not the stresses of yesterday or the worries of tomorrow.
Living in the present is also extremely beneficial to improving your relationships, helping you focus, enhancing your productivity and even being more creative.
---
Related reading: How to Live in the Present & Reduce Overwhelm
---
15. Incorporate Journaling Into Your Day
It's impossible to write an article about being intentional without the mention of journaling.
There are so many types of journaling you can incorporate into your life that is good for your mental health and an excellent way to stay intentional.
By journaling, you can keep track of your intentional living journey, focus on goals, experiences and reflect on what's working for you.
Use a journal as a tool to not only connect with your feelings but also stay on track.
More Specific Ways To Be Intentional
Focus on your relationships
Think about your money goals and stick to the plan (don't overspend, invest, etc)
Meal prep
Practise gratitude
Try a 30-day challenge
Quick Tips To Be Intentional
Being intentional is all about your mindset. Start each day focusing on how you're going to be intentional. You'll soon create a habit of having an intentional mindset.
Set a timer to help you stay on task and focus on one thing at a time. That way you can stay in the present moment and accomplish more.
Share your plans with others. Let your friends and family know how you plan on being intentional. Share specific ways you plan to be intentional – for example: being intentional with your time, so you always arrive early, being intentional with your mornings so you can fit in time for self-care.
Embrace failing and learn. Failure is a part of success and understanding how to learn from what doesn't go right helps us grow.
Write a list. You can create a list in the morning to set your intentions for the day, and you can also write about your thoughts and actions at the end of the day.
How To Be Intentional: Summary
In this article, we have focused on many key areas to help you be more intentional every day.
To recap:
1. Plan Your Day
2. Commit To Your Plan & Follow Through
3. Choose How You Want to Feel Today
4. Be Intentional with Your Decisions
5. Dedicate Time to What's Important to You
6. Be Kind to Yourself
7. Avoid Negative Distractions
8. Create a Morning Routine
9. Incorporate Journaling Into Your Day
10. Focus on the Outcome
11. Be Positive
12. Start a Good Habit
13. Practise Mindfulness
14. Find Contentment in Your Day
15. Live in the Present
Note: These 15 ways to be intentional are not meant for your to do all at once – that would be way too overwhelming. So my recommendation is to start at the top and work your way through.
This is not a race but a way for you to embrace a new way to be in control of your day, your happiness and your life. So enjoy the process and be intentional about it!
I'd love to hear from you!
How are you incorporating an intentional life into your day?
Share in the comments below…
More Resources To Help You Be Intentional:
For more inspiration and to get the latest post from Put The Kettle On, let's connect!
Pinterest | Facebook | Instagram | Twitter
Yolanda xo