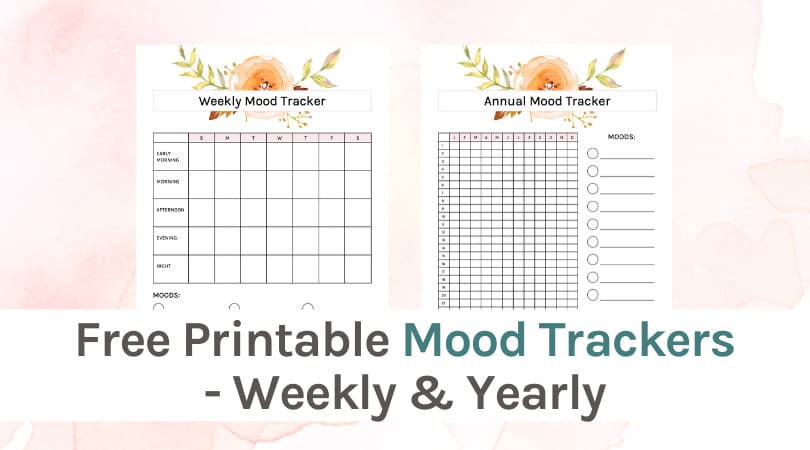 This free printable mood tracker is designed for you to be mindful of your daily mood and help you do more of what you love while limiting activities that lower your mood.
I personally created this mood tracker for myself to help me identify activities that make me feel good. I am trying small habit changes every week to see how it impacts my mood for the better.
So far, the results have been really positive. Since tracking my mood daily I feel more uplifted and have less low days. I am, therefore, really excited to share this small habit with you 🙂
What is the Purpose of a Mood Tracker?
A mood tracker is used to track your mood every day so you can be mindful of your mental health.
It can be hard to remember how you feel on a daily basis so logging your moods can help you see how life is treating you right now.
Want to be more mindful of your feelings so you can do more of what you love? Download my free printable mood trackers to help you love yourself a little more. #moodtracker #MentalHealthMatters
Click To Tweet
2 Mood Tracker Printables For You
This post contains affiliate links. Disclosure here.
Weekly Printable Mood Tracker Worksheet
The weekly mood tracker is designed to take note of your mood at 5 specific times a day – early morning, morning, afternoon, evening and night.
Add the moods you'd like to track and assign a colour to each mood (These are the glitter gel pens I use and love!)
On a daily basis record your activity (in a couple of words) with your corresponding mood
Mood recommendations to track are included or choose your own
Yearly Printable Mood Tracker Worksheet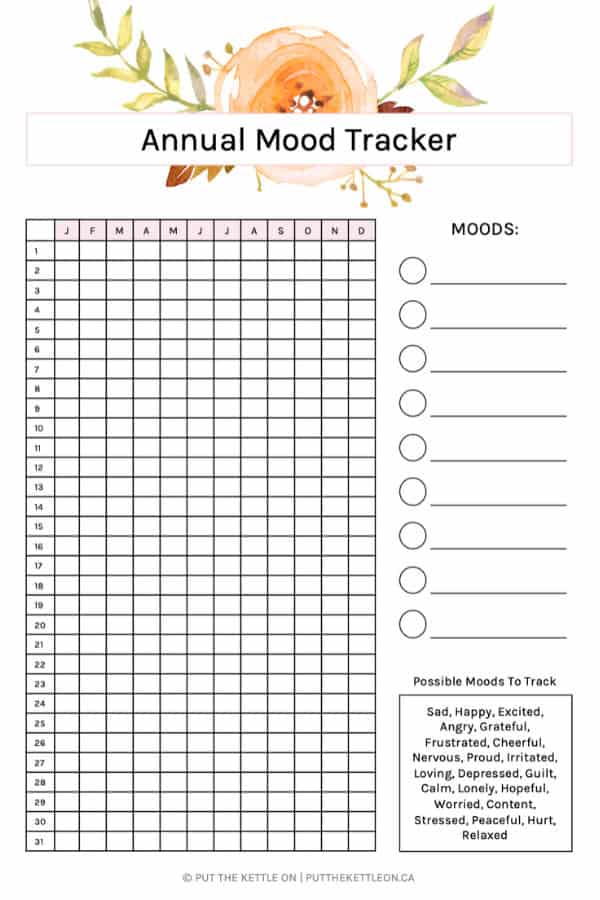 Just like the weekly tracker, you will assign colours to the moods you'd like to track. This tracker is perfect to show your overall feeling for the whole day.
To complete, simply colour in the box in the mood colour for each day of the year.
Example of How I Fill Out The Mood Tracker…
For the weekly mood tracker, you can see that I add the main activity for a specific time of day and below I colour the mood I'm feeling during that time.
For the yearly mood tracker, I track my overall feeling for the day. This is a great way to see how your mood is shifting over time.
Have You Tracked Your Mood Before?
If yes, share in the comments what your experience has been like.
Related Articles About Self Care & Mental Health:
For more inspiration and to get the latest post from Put The Kettle On, let's connect!
Pinterest | Facebook | Instagram | Twitter
Yolanda xo
-PIN ME-
Thanks! I appreciate every single share 🙂