10 Reasons Why Life is Beautiful and Worth Living
Creating a beautiful life worth living comes down to one thing… choice.
Regardless of your past or present, you can choose what path to take moving forward.
Will you choose to focus on hardships or positive experiences?
You might be thinking… "you don't know what I've been through".
True – I don't. But what I do know is this…
Even if you are in a time of turmoil or a time of happiness, the next step is yours to take. No one controls how you feel or your perspective on life, except you.
Below I'll be sharing 10 reasons why life is beautiful, but first, let's talk about perspective.
First Step to Focusing on a Beautiful Life Worth Living: Perspective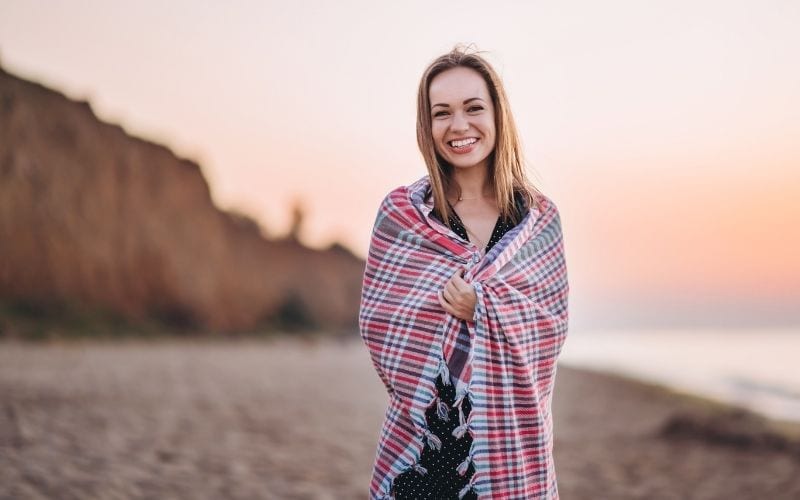 Perspective is everything in a happy life.
Let me share some examples of how you can rethink or change your perspective on some commons things people see as problems:
You're Beginning to Age…
You hate the few wrinkles that are developing along with the grey hair that's stopped by for an unwelcome visit.
Typical thought: I hate ageing, I wish I could turn back time or look younger.
Positive thought (different perspective): I'm lucky that I am experiencing life to the fullest. My wrinkles show where I laugh and my greys are no biggie. I am happy to be where I am right now.
Your House is a Mess…
You are literally tripping over backpacks and your kids room looks like a bomb struck… and you are soooo sick of "nagging".
Typical Thought: My house is a pigsty and my family doesn't care about me or what's important to me.
Positive thought (different perspective): Yes, my house is a mess but this represents my family's busy life – sports practices, school, recitals, homework. I will enjoy the bit of chaos around me as one day in the not so far off distance the house will be tidy again, but also quiet and empty.
10 Reasons Why Life is Beautiful and Worth Living
1. You Can Create Your Own Destiny
You've heard of people coming from tough places in life and conquering what seems impossible. They have a goal, a desire and they go after it. So, why can this not be your destiny too?
Listen, we can't always get what we want in life (I know from my experience with infertility), however, we can come up with another plan that can fill the same (or similar) feeling and experience.
If you're in a place that isn't good for you, think about how you can change your situation.

If you have big dreams, how can you make an action plan to turn those dreams into your reality?
Creating your destiny means choosing how you react, how you think and how you can make a decision that works for you.
2. The Sun Always Rises
Nature has a beautiful way of reminding us that anything can be possible. There is always a new day, a new experience, and as the quote from Les Misérables goes…
"Even the darkest night will end and the sun will rise."
If you're going through a hard time at the moment, know that time heals, pain subsides and there is always a new day and a new way you can think about situations.
3. Trials and Hardships Are A Reminder
A reminder that you can get through anything if you set your mind to it. Hardships shape us and get us ready for wonderful experiences in life.
Hardships and bad experiences seem unfair (and they are), but we can always learn from how we respond to these situations so next time there is a struggle we can get through it easier.
Struggles can also shape us into empathetic, loving beings who are good friends, lovers, partners.
An exercise to try:
Look at your big hardships in life and think about:
What you learned about yourself

How the hardship helped you grow

Any positive experiences that came out of a particular struggle
Related: 20 Quotes to Give You Strength When You're Feeling Low
4. You Can Fully Experience Life's Simple Pleasures
The little things in life actually matter a lot. In fact, this research shares that "On a given day, a relatively high number of simple pleasures offset the negative relationship between the number of small annoyances."
Pretty amazing!
What I take away from this is: Focus on simple pleasures and you will feel happier on a daily basis.
The way you feel when the wind blows through your hair, a happy memory from a scent of freshly cut glass, the moment of bliss as you take a sip of your first cup of coffee in the morning. These are the simple things that actually matter.
We do little things every day, but you can choose to experience them to the fullest – to truly enjoy life's simple pleasures.
5. Love is Worth Finding
Love comes in all shapes and sizes. When seeking love and choosing to give and receive love it comes from more than a romantic relationship – which of course we all seek and hold onto in life.
However, I encourage you to find other types of love that fill you up in so many beautiful ways. Love from…
Your best friend

A pet

Yourself

A sibling

A parent

Your neighbour

Life
When you think about it I bet you have a lot of love coming your way. So, embrace it, reciprocate it and be grateful for this love.
6. You Get to Change Your Mind
We have all taken many wrong turns in life, whether tiny or large, but the beautiful thing is – you get to change your mind!
There are no rules that you need to stay in a relationship you hate, a job that stunts your growth, or a schedule that exhausts you.
We are the masters of our world and even if you feel your hands are tied, or you're trying to live up to others' expectations, you have a choice to rethink how you do things.
7. Your World is an Open Book
You can learn everywhere you go.
Learn from the people you meet by truly listening to their perspectives on life. Learn about yourself and what makes you feel good. Learn about other cultures and religions. Discover learning opportunities in all experiences, good and bad.
One thing I love to do:
If there is someone I don't get along well with I try to think of things from their perspective.
Why do they act the way they do?

What keeps them up at night?

What is their typical response to interactions with me?
By focusing on this individual there is a learning opportunity for myself and to understand them better. Regardless of what I learn, this experience usually improves the relationship for the better.
8. People Love You
Did you know that right now someone is thinking about you? Thinking about what you've given them. The smiles, the attention, the kindness, the memories, the love.
Always remember that the love people have for you is ever-present and even if it takes on different forms or at times is undetectable – it is there.
Exercise:
In a friendship or romantic relationship, look for the things people do to understand how they love you.
We all have different love languages, so look at how people speak to you, the gestures they have when with you, the little things they do for you.
This can be an eye-opening exercise especially if you think you're not receiving love. If you take a deeper look I bet it's ever-present, but perhaps not in a way you expect.
9. Nature Continuously Gives
No matter where you live – whether in a city, the suburbs or the countryside – nature gives to us daily.
A rainbow to remind us of hope and better times to come

A butterfly that represents change and transformation

Flowers that bloom on a special day

Wind showing us how powerful mother nature can be

A single snowflake representing individualism and as the Zen proverb goes… " a snowflake never falls in the wrong place".
I encourage you to look around and see what nature gives you.
10. It's Never Too Late
There is no timeline to when you should do things. You can start when the path is yours to take. But remember, to start.
Even if your dream, goals or plan doesn't seem to fit into your life right now – think about how you can make a little start. The process and steps you take to fulfill a life goal is a quest worth taking.
Why Life is Beautiful & Worth Living: Final Thoughts
I sincerely hope these 10 examples of why life is beautiful and worth living to the fullest gave you inspiration, motivation and support.
My big message to you is to keep on… doing what you love, filling your glass and looking for ways to live a beautiful, meaningful life.
Beauty surrounds us every day, we just need to open our eyes a little wider to truly see it.
What do you find to be most beautiful in life?
Share in the comments to inspire others 🙂
Related Mental Health Resources: