99 Simple Pleasures in Life to Fill You With Joy
Simple Pleasures in Life Meaning
Enjoying the simple pleasures in life literally means you get great satisfaction from something small, simple and easily attainable. These are sensations and experiences that make us feel good and often we look forward to them.
We all have small things we love and experience on a daily basis, but we don't always recognize or acknowledge these little pleasures in life.
Why are Simple Pleasures Important?
By recognizing and appreciating the little things in life that bring you joy will actually help you have more control over your day-to-day happiness.
In fact, a research study held by a Pd.D. associate professor suggests that simple pleasures "…help you to make progress on your daily goals, particularly when life feels challenging and stressful.
Simple pleasures also have the power to restore feelings of positivity and happiness, giving you the energy and perspective you need to pursue the difficult but important things in life."
While you get inspiration from these simple pleasures examples, think about the simple things that make you happy – and make sure to share them in the comments section below.
How Do You Enjoy the Simple Pleasures in Life?
My favourite way to enjoy the simple pleasures in life is to think about how to keep your 5 senses active.
Our 5 senses (sight, smell, touch, taste and sound) are extremely powerful and can link to many positive memories from our past.
Using our senses to appreciate the simple things in life helps us to practise gratitude and find more happiness in our day.
There are many things to cherish in our busy lives, so slowing down and enjoying life's simple pleasures can make a huge difference to our personal growth and contentment.
---
Related: 25 Ways to Simplify Life and Be Happy
---
What are the Best Simple Pleasures in Life?
Get inspiration from this ultimate list of simple pleasures and add some to your daily routine.
Enjoy the simple pleasures in life using your 5 senses. Read the list and share your own! #simplepleasures #gratitude
Click To Tweet
Sight
1. Buds blossoming on a cool spring day
2. Watching the sunrise (or sunset)
3. Looking at old photos
4. Seeing people smile
5. Reading a great book
6. Watching old movies
7. Ice cream on a child's face
8. A video call with loved ones who live far away
9. Twinkly lights
10. A red sky at night
11. People watching
12. Old architecture
13. Festive decorations
14. Looking at a still lake first thing in the morning
15. A wildflower garden
16. City views
17. A clean house
18. Reading inspiring quotes
Sound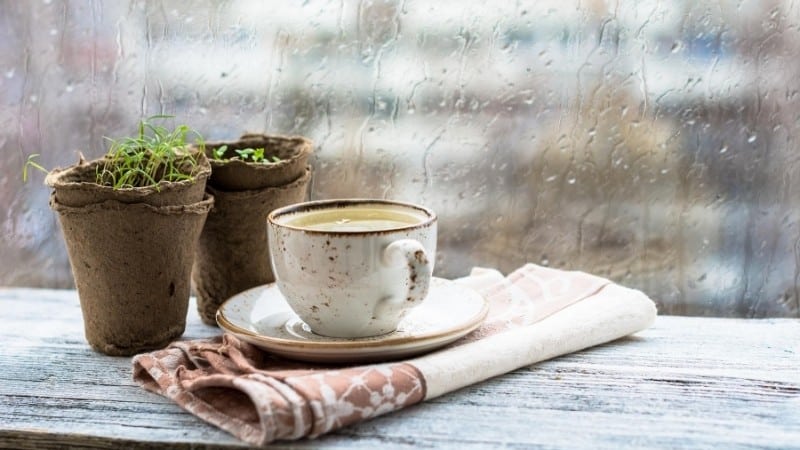 19. Crickets on a late summer night
20. The clinking of mugs and voices humming in a coffee shop
21. Giggles and belly laughs from your teenager being amused by YouTube videos
22. Leaves brustling on a windy day
23. The singing of chirping birds on a cool spring day
24. Hearing your spouse's sexy voice
25. Chatting to strangers
26. Listening to music from your youth
27. The buzzing of a fan on a hot summer night
28. The patter of rain
29. When your fave song comes on and you have to dance
30. Listening to waves
31. Hearing 'I love you'
Smell
32. The scent of freshly cut grass
33. Coffee brewing at the crack of dawn
34. Rain on a hot summer day
35. Chicken roasting in the oven
36. Fall leaves
37. Rosemary
38. Popcorn
39. The scent of a newborn babies head
40. Freshly baked bread
41. Coppertone sunscreen
42. Homemade cookies straight from the oven
43. Apple pie
44. Spring mud
45. Peonies
46. Mint tea
What are your simple pleasures in life? Share no matter how big or small 🙂 #simplepleasures #gratitude
Click To Tweet
Taste
47. Strong tea in the morning
48. Apple cider on a cool fall day
49. Red wine
50. Mom's chicken casserole
51. Juicy watermelon
52. A cup of hot coffee
53. That first bite of chocolate cake
54. Making a delicious meal that everyone loves
55. Cucumber water
56. Freshly squeezed juice
57. Lemon tart
58. Ripe local strawberries
59. Cold beer in the summer
Touch
60. The feeling of a cold shower on a hot day
61. Frothy coffee hitting your lips
62. Hugging someone you love deeply
63. Lying down at night, at the end of a long day
64. Kissing
65. Cuddling on the sofa
66. Playing with my son's hair
67. Kitty and doggie snuggles
68. Neck massage
69. Walking barefoot on the beach
70. Fresh bed sheets
71. Holding hands
72. Petting your dog or cat
73. That smooth feeling after you shave your legs
Other Simple Pleasures To Experience
74. Dancing in the kitchen
75. Going on a date with yourself
76. Swimming in the sea
77. Stretching in the morning
78. Completing your to-do list for the day
80. Getting up early to enjoy a peaceful house
81. Relaxing on a Sunday morning
82. Sitting on a front porch
83. Family dinners
84. Girls night
85. Exploring a new place
86. An afternoon nap
87. Morning self-care routine
88. An empty email inbox
89. An uninterrupted bubble bath
90. Having someone say thank you
91. Laying on the grass and looking up at the clouds
92. Favourite pair of jeans that fit to perfection
93. Sitting in a rocking chair
94. Fresh cut flowers in a vase
95. Bedtime tuck-ins
96. Early morning walks
97. Going on a picnic
98. Drawing
99. Giving a gift to a loved one
There you have it! 99 simple pleasures that can truly make a difference to your life.
What Small Pleasures Bring You The Most Happiness?
Share your simple pleasure in the comments.
Try and think of a simple pleasure for each sense – sight, sound, smell, taste and touch – or share any simple pleasures 🙂
Related Articles About the Simple Pleasures in Life:
For more inspiration and to get the latest post from Put The Kettle On, let's connect!
Pinterest | Facebook | Instagram | Twitter
Yolanda xo
-PIN ME-
Thanks! I appreciate every single share