30 Meaningful Gifts for Mom on Mother's Day
You're probably here because you have literally bought your mom everything over the years and are stuck on what to give this Mother's Day.
So, what do you get a mom who has everything?
To help you out I've spent some time compiling a list of meaningful gifts for mom.
Here's what you can expect in this Mother's Day gift guide:
Journals and notebooks for mom
Jewellery gifts for mom
Cute mugs for mom
Best subscription boxes for mom
Gifts for moms who love gardening
Gifts for the mom who needs help
Crafty and creative gifts for mom
Gifts for Grandmother's
Perfect for so many types of moms 🙂
This post contains affiliate links. This means I may earn a small commission if you decide to make a purchase through my links, at no extra cost to you. Read my disclosure info here.
30 Meaningful Gifts for Mom on Mother's Day
Journals and Notebooks for Mom
1. Self Love Guided Journal
I'm excited to announce that I have published a self-love journal based on the journal prompts in a popular self-love article here on the blog.
This is the perfect gift to give a mom who needs some alone time to contemplate the good things in life. Mom can write in her self-love journal with her morning coffee or nighttime tea 🙂
A journal and workbook full of self-love writing prompts to build your confidence and remind you of the beautiful things life has to offer.
A 30-day journal writing challenge to help mom see how special she is, experience new ways to feel good and give her time to reflect on the things that matter most.
Includes 30 unique self-love writing prompts, weekly reflection prompts, inspirational quotes and colouring pages, self-love affirmations, self-care ideas and more!
Check out the journal HERE.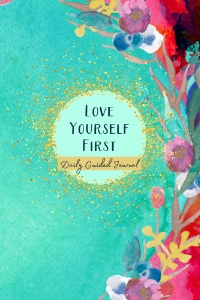 2. Record the Journey of Motherhood, Notebook
This Mother's Journal is a place to record memories and special moments. Moms can capture funny things their kids say, fun family activities and milestones.
Ideal for new moms or any mom who wants to journal her motherhood journey.
Affordable Jewellery Gifts for Mom
Giving a little something that's affordable and pretty is a wonderful way to treat mom. The below are some dainty, delicate necklaces that I would love and I know your mom would love too!
3. A Family Tree Necklace
This beautiful family tree necklace is delicate
4. Mother Daughter Necklace
Such a thoughtful gift to share with mom, this sterling silver necklace is a meaningful keepsake you can both wear.
5. Chakra Necklace
6 different stones to choose from each chakra necklace has a different stone and represents a unique quality – creativity, truth, heart, joy, strength and energy.
6. Custom Letter (or initials) necklace
Select the length, colour and letters to make your own unique customized necklace for mom. A lovely idea is to have 1 letter for each child.
Cute Mug Gifts for Mom
As a self-proclaimed mug lover, I honestly think you can never have enough cool/fun/thoughtful mugs!
7. Mom Fuel Mug
Oh yes, whether mom loves coffee or tea this cute mug says it all 🙂
8. Best Mom Ever Mug
What mom wouldn't love this cute coffee mug that tells her how wonderful she is?!
9. Mommy Needs More Coffee Mug
Fun Mommy Needs More Coffee mug is perfect for those hectic mornings where mama really does need more coffee!
There are also other says like 'Tired as a Mother' and '#Momlife'.
10. Yeti Tumblr
This Yeti mug comes in a load of different colours and is great for moms who like to get outside – camping, hiking, parks, picnicking.
11. Yeti Wine Tumblr
For the mama's who'd rather have wine than coffee when they're enjoying the outdoors 🙂 This stainless steel wine tumbler also comes in a variety of colours and
Subscription Box Gifts for Mom this Mother's Day
If you're really stuck on what to give mom a subscription box is a lovely idea and a gift that keeps on giving. There are so many subscription boxes available these days due to huge popularity.
12. Essential Oil Subscription Box from Simply Earth
Includes 4 essential oils every month + ingredients to make different essential oil recipes (candles, blends, lotions, sprays, soaps and so much more)!
*When you purchase your first subscription box you get a FREE Big Bonus Box from Simply Earth + you also get a $40 gift card with my promo code PUTTHEKETTLEONFREE
They also have beautiful diffuser bracelets, which is the perfect add-on to the box or to give separately.
13. Therabox – Self Care Subscription Box
Curated by therapists every month to increase happiness and reduce stress. The Therabox includes 6 to 8 full-size wellness products (aromatherapy, natural/organic bath, body, skincare products, and other lifestyle goodies).
14. The Delilah Box – Book Box for Christian Women
Perfect gift for Christian moms, The Delilah Box helps you learn about the lesser-known women of the bible.
Every month there are different items in the box which includes books, a short story in the bible, tea and other beautiful items such as notebooks, bookmarks, sweet treats, candles and so much more.
15. Hopebox – Self Care Box
The beautifully curated Hopebox focuses on relieving anxiety through comfort and self-care.
It includes 10+ full-size self-care items every month including a personalized message you can write for mom. All boxes are seasonal, vegan and cruelty-free.
16. Goddess Provisions
Perfect for new-age moms, the Goddess Provisions subscription box includes crystals, aromatherapy, natural beauty products, superfood snacks & spiritual tools. Includes 5 to 7 beautiful full-size items every month.
17. Coffee and a Classic
Coffee and a classic novel every month! There are two sized boxes to choose from with this Coffee and a Classic subscription box.
You can also select your genre (classic literature or children's classic) and your choice of a hot cozy drink (coffee, tea or hot chocolate).
Boxes include:
A Classic Novel, Something to Sip on, Two Bookish Items and a Bookmark
The larger box also includes a mug and a snack
Gifts for Moms Who Love Gardening
Mother's Day is the perfect time to give gardening gifts with spring in full bloom. Below are some of my favourite gardening gifts for moms, but of course you can't go wrong with a trip to the garden centre to pick up a beautiful plant.
I love giving hydrangeas for Mother's Day as they are in season where I live, but any perennial is also a thoughtful gift so your mom can enjoy, as it blooms every year.
18. A Gardener's Journal
The perfect garden lovers journal and logbook to plan out the garden and keep a record of all things gardening – soil, planting, weather, fertilizing, pests and more.
19. Crazy Plant Lady T-Shirt
I have already ordered this one! This super cute gardeners t-shirt comes in 5 colours and is super soft.
20. Hand Blown Glass Watering Globes
These unique watering glass globes are for indoor plants and outdoor gardens. This is the perfect gift for gardeners of all levels and most likely something your mom won't have!
Simply fill the globes and the water slowly releases over time. Great for those who forget to water their plants! Learn more about how these work HERE.
21.

Plant Terrarium with Wooden Stand
This is plant terrarium is perfect for gardeners and they can take cuttings from the garden (flowers or herbs) and grow in these individual terrariums.
Gifts for the Mom Who Needs Help!
(Yep, that would be all moms!)
22. An Instant Pot
An Instant Pot is a perfect gift for a mom who needs to make mealtime easier. (I know a lot of moms are raising their hands on this one)!
Tip: Give this to your mom and also make dinner for her in the Instant Pot and she'll be even happier 🙂
23. Write Your Own Coupons
You can DIY this or use this affordable coupon book.
Crafty & Creative Gifts for Mom
24. Cricut Portable – Make labels, personalized mugs/t-shirts & more.
This Cricut Joy machine is perfect for moms who love to DIY. The Cricut is an amazing little cutting, writing and label-making machine that can be used to make everything from customized cards, stickers, labels.
You can literally take any image (uploaded from your smartphone) and the Cricut gets to work!
Check out the video on the Amazon page to see it in action!
25. Colouring Book for Mom
This Secret Garden Coloring Book is my personal favourite. The quality of the designs are a big step above most of what you see out there.
The colouring pages are really detailed and perfect for moms who love flowers, gardening and anything in the garden!
26. Momlife: A Snarky Adult Coloring Book
A fun colouring book for moms with cheeky sayings that will make mom chuckle! My favourite is 'Bra Off. Hair Up. Sweats On!'
This Mom Life Coloring book will be a winner, I promise!
27. Lettering and Modern Calligraphy: Beginner's Guide
Mom can learn hand and brush lettering and create beautiful designs in this modern calligrapher's workbook.
15 lettering projects are also included in this book to get even more creative.
28. Tom Bow Dual Brush Art Markers
These dual brush art markers can create fine, medium and bold strokes and even have a colourless blender pen that creates a watercolour effect.
The perfect gift for Mom to use in her new modern calligraphy workbook above.
I personally have this set and the quality is top-notch. (Also available in pastel colours).
Gifts for Mom's Who Are Also Grandmother's
29. Grandkids Make Life Grand
I fell in love with this thoughtful grandmother gift. You can order as-is or have the wording customized. Available in different sizes and wood varieties this handmade sign is a really meaningful gift.
30. Grandmother and Mom Personalized Star Map Sign
Whether grandmother is called Nana, Grandma, Mimi, etc you can completely customize this beautiful star map sign that shows each grandchild's birthday.
Just supply the name birth date and location of each child. Also perfect for moms 🙂
Need More Gift Ideas for Mom?
Check out some of my other popular gift guides:
What is the Best Gift to Give a Mother?
Apart from giving your mom a physical gift, what's important is that you make your mom feel special on Mother's Day.
Spending time with your mom, doing something you both love is the best gift you can give.
Unfortunately due to the pandemic, Mother's Day this year won't be the same (again), so here are a few ways you can show your love to mom (all are safe and physically distanced).
Plant flowers in her garden
Make dinner for mom and drop it off for her to enjoy
Play a board game with your mom over Zoom!
Drop by for a socially distanced visit
Have brunch together over a video call
Call her and have a nice long chat
Hey Moms! Tell Me: What's the Best Gift You've ever received for Mother's Day?!
Share in the comments below…
For more inspiration and to get the latest post from Put The Kettle On, let's connect!
Pinterest | Facebook | Instagram | Twitter
Yolanda xo