4 Day Clean Eating Challenge For Every Season
What is a Clean Eating Challenge?
A clean eating challenge is like a quick reboot for your health. There are lots of different types of clean eating challenges from fasting to juicing. But I don't believe in deprivation, not at all.
I believe in allowing your body to detox naturally and helping your body do so by practicing clean eating. Clean eating helps your body detox naturally while you nourish your body with good, clean food.
Ideally, our bodies should be able to cleanse fully on their own. However…
Our air is polluted

We eat from plastic containers

We drink from plastic bottles and through plastic straws

Our food is laden with pesticides, saturated fats, preservatives, and inflammatory agents.
All of this adds toxins to our bodies–toxins that cause exhaustion, weight gain, increase our chances of developing a disease, worsen allergies, and make us look and feel older.
We are demanding too much from our bodies' detoxification systems. That's why a seasonal mini cleanse is necessary for our health.
Clean eating involves eating foods that are not processed with chemicals, including preservatives.
While eating clean, you should:
Drink water

Eat lots of fruits and vegetables

Eat clean sources of protein such as organic, non-processed meats for omnivores, and plant-based proteins such as beans and nuts for vegetarians and vegans.
Also, while doing a clean eating challenge, you should avoid inflammatory foods. These are foods that tend to inflame your digestive tracts such as dairy, soy, and added sugars.
---
Related: How To Eat Healthy When Your Family Won't
---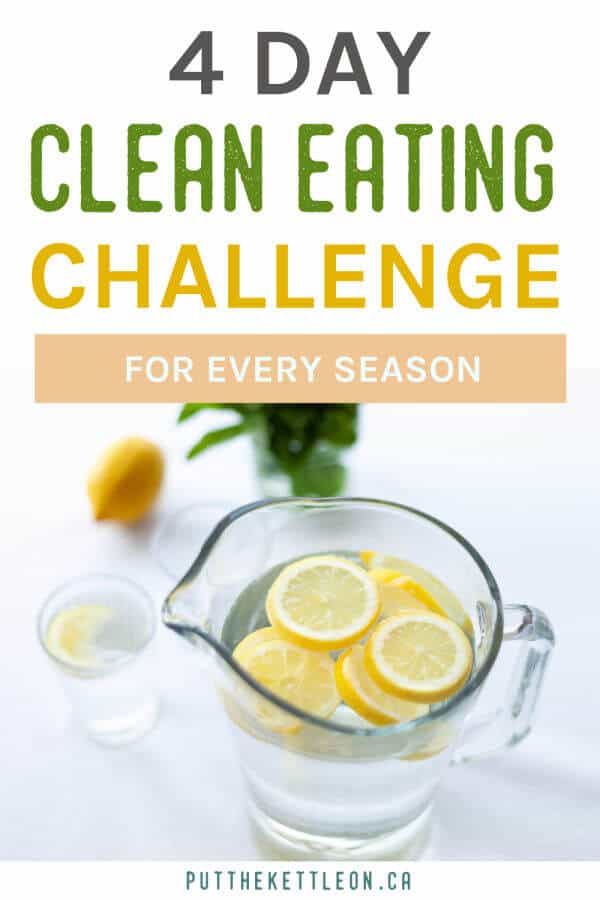 How Often Should We Do a Mini Clean Eating Challenge?
I recommend doing a mini clean eating challenge once a season to help your body detox naturally.
It takes a few months for your body to accumulate toxins.
Once you do a mini clean eating challenge, you'll notice that, at first, you will continue to eat mindfully and healthily for a while, and then, eventually, some of your bad habits may creep back in.
By doing a seasonal mini cleanse, based on in-season ingredients, you'll reset your body and brain every three months.
This will help keep you feeling vibrant, healthy, and in control of your diet.
I also recommend revisiting your mini-challenge whenever you feel unbalanced from indulging too much, such as after a holiday, vacation, or just because you went on a donut bender (I mean, it can happen to anyone.)
Holidays, vacations, birthdays, or even stressful periods in our lives can contribute to overeating and indulging in sweets, fats, and salty foods. And, that's ok.
It's ok to indulge in all of your favourites during the holidays or when you are feeling stressed, so long as you don't overdo it.
Life is about balance. And, once you learn how to do a mini clean eating challenge, you'll have the tools to reboot your diet and get yourself back on track.
---
Related: 25+ Healthy Snack Combinations to Curb Your Hunger
---
What are the Benefits of a Clean Eating Challenge?
When we practice clean eating, we bring in fewer toxins and less inflammatory agents, so that our bodies can detox themselves, as they are designed to do.
A seasonal clean eating challenge helps our bodies by:
1. Avoiding foods that cause imbalances in your digestive system and lead to bloating, exhaustion, brain fog, constipation, weight gain, disease, allergies, and more.
2. Helping us learn what foods work for our bodies instead of against it—foods that nourish our bodies so that we feel healthier, more energetic, and balanced.
3. Allowing our bodies' detoxification systems to effectively detox our bodies naturally, while we nourish our bodies with good, clean food.
4. Rebooting our palettes to enjoy and crave healthy, clean food instead of chemical-laden processed foods, sugar, fats, and more.
5. Super-charging our metabolism so that our bodies store less fat and absorb more nutrients from our foods. Yes, this means you will lose weight during your mini clean eating challenge. Bonus!
6. Improving our relationship with food and our diets by giving us the tools we need to keep ourselves on track, and to learn to love the taste of healthy foods, and the way clean eating makes us feel. This means you'll be able to lose weight and keep it off long term. Double bonus!
Sounds great, right?
But I hear you; you're afraid that a clean eating challenge is going to force you to starve, drink only juices for days, eat rabbit food, and make you choke down a lot of supplements, right? Well, not any of my challenges, I assure you.
I love food, so much! I enjoy eating and I appreciate what food does for me, both by enjoying the taste and smell of food, and by nourishing my body. I couldn't live a day without it (heck, I couldn't live a few hours without it) and I'd never expect my readers or clients to, either.
I like my food to taste good, be filling, and be adaptable to my needs and the needs of my family. This is why all the recipes in any of the challenges and programs I offer are satisfying, family-friendly, and most are adaptable to vegans, meat-lovers, and everyone in between.
Foods to Avoid When Doing a Clean Eating Challenge:
Added sugar and artificial sweeteners

Alcohol

Corn (grain)

Dairy

Gluten/Wheat

Nitrates (lunch meats)

Processed foods

Processed meats (sausages, hot dogs, etc)

Soft drinks

Soy products

White potatoes

Yeast (bread, cakes, etc)
Start a Clean Eating Challenge today with this 4 Day Meal Plan. #cleaneating #cleanse
Click To Tweet
What Does a Typical Day Look Like During a Clean Eating Challenge?
Drink your water!
It is very important that you stay well-hydrated while doing a clean eating challenge.
How do you know how much water you need to drink? Well, it involves a little math! I am the worst at math, but I promise, this is simple:
Take your body weight in pounds and divide that number in half.

Now, convert that number into ounces. And that's how many ounces of water you need to drink daily while doing your clean eating challenge.
For example, I weigh 120 pounds. Half of 120 is 60. I need to drink 60 ounces of water a day, which is approximately 7 and half 8-ounce glasses of water.
FIRST THING IN THE MORNING:
Wake up a little earlier than you normally would to give yourself time to start your day off peacefully, and on the right foot.
While doing a clean eating challenge, or anything that's out of your comfort zone, it's important to nourish your spirit while nourishing your body, so participate in some sort of self-care activity every day of your challenge.
Read a book

Stretch for 5 minutes

Walk your dog and take her the long way around
Drink lemon water:
Get a big mason jar and fill it 3/4 with filtered water. Squeeze in half of a lemon. Stir, and enjoy.
BREAKFAST:
Peach & Ginger Smoothie
4 oz. water

4 slices of frozen peaches (or fresh if in-season)

¼ inch piece of ginger root, peeled

½ apple peeled and chopped

1 stalk fresh celery, chopped

4 ice cubes
Add all ingredients to a blender and turn on to its lowest setting. Gradually increase the speed until all ingredients are thoroughly blended.
MID-MORNING:
Drink a detox tea such as nettle, dandelion, or ginger and lemon
Snack: 1 piece of fruit and a handful of raw nuts
LUNCH:
Raspberry and Baby Spinach Salad
Serves 4
4 c baby spinach, rinsed and dried
1 c fresh raspberries
4 oz almonds, sliced
Dressing
½ c extra virgin olive oil
1 lemon, juiced
¼ tsp garlic powder
¼ tsp cayenne pepper
Salt and black pepper, to taste
Omnivore Option: 1 pre-cooked rotisserie chicken from local grocery store.
AFTERNOON:
Kicked-Up Kale Chips
Serves 4
1 bag of prewashed kale

2 tbsp extra virgin olive oil

2 tsp garlic powder

2 tsp ground cumin

1 tbsp smoked paprika

Salt and pepper, to taste
Preheat oven to 325°F.
Tip a bag of prewashed kale into a large mixing bowl.
Combine garlic powder, ground cumin, and smoked paprika in a bowl until well combined to make a seasoning blend.
Drizzle with olive oil and toss.
Sprinkle kale with the seasoning blend. Toss until evenly combined. Arrange seasoned kale leaves on a prepared baking sheet in a single layer. Do not layer or overcrowd.
Bake for 5-6 minutes. Rotate the baking sheet and bake for another 1-2 minutes. Remove chips from the oven when they are still mostly green, with only a tiny bit of brown developing.
OR:
Snack on raw veggies and hummus (store-bought is fine).
DINNER:
Mashed Cauliflower with Your Choice of Protein
Serves 4
1 large head cauliflower, chopped

3 tbsp olive oil

1 tsp garlic powder

sea salt and black pepper, to taste
Omnivore Option: 4 baked salmon fillets
Vegan Option: 1 15-oz can of black beans with sautéed onions and garlic
For the omnivore option, preheat the oven to 400 degrees. Coat salmon with 1 tbsp coconut oil, and sprinkle with sea salt and black pepper. Place on a baking tray and cook for 10 to 12 minutes.

For the vegan option, add 1 tbsp of coconut oil to a medium-sized pot over medium heat. Add one chopped onion and one minced piece of garlic and sauté for about until onions are soft and begin to brown slightly. Do not burn the garlic! Add in the black beans and heat until warm.

Add chopped cauliflower to a steam basket inside a large pot over medium heat. Cover and steam for about 12 minutes until tender.

Once the cauliflower is done, add to a high-speed blender or food processor. Add in olive oil, garlic powder, sea salt, and black pepper. Pulse until smooth.

Serve the salmon or black beans over mashed cauliflower.
BEFORE BED:
Moon Milk or Chamomile Tea
Moon Milk Recipe
1 cup almond or oat milk

½ tsp ground cinnamon

½ tsp ground turmeric

¼ tsp ground nutmeg

Pinch of ground cardamom

Pinch of ground ginger

1 tsp virgin coconut oil

1 tsp honey or agave
In a small saucepan, add in milk and warm to just below a simmer. Stir constantly and add all the spices. Whisk well. Add in coconut oil and honey. Whisk well again. Pour into a mug and enjoy.
We are demanding too much from our bodies' detoxification systems. That's why a seasonal mini cleanse is necessary for our health. Grab your free meal plan now! #cleaneating #healthyeating
Click To Tweet
Self-Care During Your Clean Eating Plan:
You started your day with a beverage and some self-care, and you should end your day in the same way.
So, grab your moon milk or your chamomile tea and do something to nourish your spirit and relax you before bed.
Some ideas include:
Do a crossword puzzle.

Spend 5 minutes thinking of what you are grateful for.

Write in your journal.

Take a bath and add in a few drops of essential oils and a handful of Epsom salt.

Snuggle someone you love (fur babies totally count!)
---
Related: Morning Self Care Routine – New Ideas to Start Your Day
---
Lastly, as you slip into bed, congratulate yourself for taking the extra time and effort to honor your body, mind, and spirit. You did well.
---
About Michelle:
Michelle Jolene, a certified Health and Wellness Coach. Follow along on Instagram.
---
For more inspiration and to get the latest post, let's connect on social media
Pinterest | Facebook | Instagram | Twitter
Yolanda xo
Related clean eating recipes: