40 Cozy Hygge Christmas Ideas for 2023
One of the best ways to enjoy the most wonderful time of year is by embracing coziness over the holidays and that's what a Hygge Christmas is all about.
Today we're talking all things hygge when it comes to the time of year many of us love most.
What is Hygge?
Hygge is known to be difficult to describe in words as it's more of an emotion that can mean different things.
According to The Little Book of Hygge, Hygge has been described as, 'the art of creating intimacy', 'cosiness of the soul', 'the absence of annoyance, 'taking pleasure from the presence of soothing things', 'cosy togetherness', and 'cocoa by candlelight'.
The concept of Hygge can be thought of as creating a warm atmosphere and connecting with those around you, especially during the lengthy cold and dark Scandinavian winters. As someone who lives in Canada, I completely understand this meaning and yearning for hygge.
The term "hygge" is rooted in Denmark and goes back to the 19th century, deriving from the Old Norse word "hugr," which stands for "mind" or "spirit."
Hygge is about appreciating the simple pleasures of life, valuing quality time with family and friends, and recognizing beauty in the simple things.
How do you pronounce Hygge?
At first glance of the Danish word you might be inclined to pronounce hygge like heeeg, but to pronounce it properly in the Danish language it's hoo-gue.
Have a listen to the pronunciation of hygge here then give it a try!
Words Associated with Hygge
Since finding an exact definition of hygge can be a little challenging, here are some words I think of when it comes to hygge.
Cozy
Comforting
Togetherness
Warmth
Simplicity
Relaxation
Gratitude
Presence
Contentment
Candlelight
Nourishment
What words do you associate with hygge? Share in the comment section below.
Now, let's get into all things Hygge for Christmas.
–
This post contains affiliate links, meaning I may earn a small commission if you make a purchase through my links, at no extra cost to you. Disclosure info here.
40 Ways To Have a Hygge Christmas
The below Hygge Christmas ideas are broken down into the following categories:
Decorating for a Hygge Christmas
Hygee is all about warmth and coziness and that fits in perfectly with Hygge holiday decor.
Here are some simple ways to incorporate Hygee into your Christmas decorations.
1. Have a Real Christmas Tree
Some people may believe that a real tree is bad for the environment, but not sure.
Artificial trees can end up in the landfill for hundreds of years. A real tree comes from a Christmas tree farm (they are not clearcutting the forest)!
You can also purchase a tree that comes in a pot and it can then be planted once you are finished.
2. Special Christmas Tree Ornaments
Think rustic, homemade, warm holiday colours and Christmas ornaments that mean something to you. I love to buy a special ornament every year that brings me joy.
These Jim Shore Christmas ornaments have been a favorite of ours for a few years now.
3. Cozy Blankets and Pillows
Fluffy, warm, cozy blankets and pillows can bring so much peace during Christmas time – especially when cozied up next to the Christmas tree.
4. Warm Lighting
Creating a warmly lit space can be achieved of candles of course – lots of candles from taper candles, tea lights and votives. Add some fairy lights to your mantle or window for more of that hygge feeling.
5. Natural Decor
Using natural greenery from your outdoor trees is one of the most hygge Christmas things you can do. It's simple and adds a tough of beauty that only nature can provide.
Go outside and find some pine cones, and cuttings from cedars, spruce and pine trees to make your own garland. And if you're feeling extra creative try making a homemade wreath to put on your front door.
Check out this fantastic video tutorial to make your own wreath.
And another quick one to make a super simple simple.
6. Use Scandinavian Style Decor
White ornaments, natural elements (wood, burlap), nordic advent candles, dried orange garland. Visit your local Ikea to get inspired.
Create a Cozy Atmosphere
7. Light Candles
One of the best and most affordable ways to create a cozy atmosphere is with candles.
I do recommend going for soy or beeswax candles to avoid toxins from other standard candles out there.
You can also find some beautiful candles with winter/Christmas scents made from essential oils. Check these out…
8. Put on a fire
If you're lucky enough to have a fireplace, Christmas is the perfect time to light a fire every day. Or if you have a gas fireplace even easier!
Another option is to place large pillar candles in your fireplace if you don't want to make a fire.
9. Relaxing Christmas music
Have Christmas music playing throughout the holiday season. Simply find some Christmas playlists and have them playing in the background. It's such a great way to get into the Christmas spirit.
10. Have a cozy afternoon or evening
Listen to music, have a cup of tea (or many), read a good book and don't forget your fuzzy socks and cozy warm blanket.
11. Have festive snacks on hand
I love to have fresh clementines and nuts (with a nutcracker) in a cute bowl available around the house.
12. Put up Christmas lights
Christmas lights are a must in our home and I get just pleasure from having them up. Decorate your home outside with Christmas lights and place some twinkle lights inside too.
Don't forget to decorate your office and other places you spend lots of time.
13. Surround yourself with some nostalgia
Think about the things that bring you joy from your past – ornaments, dishes, and decor from past years. Anything that provides cozy memories.
14. Make an Advent Wreath
The advent wreath symbolizes the four Advent Sundays before Christmas. One candle is lit for each of the four Sundays before Christmas.
Check out this beautiful advent wreath for inspiration.
Gift Giving
15. Christmas Gift Giving Game
Get together with the whole family or a bunch of friends to play Secret Santa or White Elephant. These are so much fun and perfect if you want to save some money on Christmas gifts this year.
Here are the directions on how to play these two Christmas gift-giving games.
16. Make DIY Gifts
Making DIY gifts is the perfect way to bring some hygge into Christmas. Here are a few ideas you can try:
17. Christmas Ornaments
I love gifting a beautiful, unique ornament for Christmas. It's a nice way to show someone you care without having to break the bank.
I mentioned above that I love gifting the Jim Shore ornaments. Here are some of my favourites…
There are so many more Jim Shore ornaments to check out here.
19. A tea subscription box
If you know anyone who loves tea (like I do), this teabox subscription is the ultimate gift!
Choice of 3, 6 or 12-month subscriptions at just $15 a box.
Includes four premium, top-rated teas
Choose loose-leaf or bagged teas, or a mixture of both
Choose caffeinated or caffeine-free teas or a mix of both
21. Cookbook
Treat the home cook to a hygge Scandinavian cookbook with all things comfort.
Check out this post for more hygge gift ideas.
Hygge Christmas Traditions & Activities
There are so many family traditions during the Christmas season that fully embrace hygge. Here are some of my personal favorites.
22. Decorating the Tree
We love to do this the first weekend of December every year. It's a time to listen to Christmas music, light candles and sip on something cozy while slowly decorating the tree.
23. Christmas Eve Church Service
I used to go to Christmas Eve service every year as a kid and it's something I want to start doing again. I have such fond memories of the hundreds of candles lit in the church, singing Christmas hymns, and being in the church play as the Virgin Mary!
24. Christmas Eve Storytelling
A perfect tradition to start with kids. Read a Christmas book like The Night Before Christmas and make it an annual tradition.
25. Ice skating and tobogganing
Get outside over the holidays for some fun in the snow. Skating and tobogganing are fun activities for all and when you get back inside you can enjoy your cozy hygge home
26. Visit a Christmas Market
This tradition feels very reminiscent of a hygge Christmas – drinking hot chocolate, enjoying the holiday lights, live music, meeting Santa, Christmas shopping and so much more. Just the idea of it feels cozy.
27. Board games & puzzles
Board games and puzzles are a lot of fun over the holidays and a great way to bring the family (or friends) together.
Work on a big puzzle together – see the cute puzzle option below…
Play an interactive game live Pictionary or Charades
Play a long game that you need extra time to do – hello Risk!
Try this Hygge game that encourages conversation
28. Caroling
If you've never gone Christmas caroling I highly recommend it. It's a beautiful way to spread some festivity, especially for those who might be alone over the holidays. Grab some friends who might be interested or if you go to church see that they have organized.
29. Write your Christmas cards
Make an evening of it. Play some Christmas carols and write your cards to loved ones all in one night.
30. Christmas crafts
Making crafts during the holidays is a lot of fun – for all ages… Paper snowflakes, popcorn garland, handmade gift wrapping (craft paper with sprig). Find some inspiration here…
Food and Drink
31. Baking
Spend an afternoon or evening baking up a storm. Make your favorites first (mine are shortbread cookies) then try some new cookie recipes.
You could make a gingerbread house or gingerbread people, thumbprint cookies, coconut macaroons, and sugar cookies.
32. Fondue
Fondue is such a hygge activity as it's all about sharing and togetherness. You can go for cheese or chocolate fondue to share with friends and family.
33. Mulled wine
Having some mulled wine staying warm on the stove provides a beautiful scent of the holidays and it's a welcome touch to any visitors that pop by.
You can make mulled wine for a dinner party or just treat yourself and your family over Christmas time.
For a non-alcoholic cozy drink I recommend making apple cider.
34. Christmas Day Brunch
Who says you have to host a big Christmas dinner – why not do a brunch instead? After all, the holidays are about spending time with the people you love most.
You can make sweet and savory dishes that exude comfort food… quiche, pancakes or waffles, and a festive salad with cranberries and pecans.
35. Tiered Tray
Set up a tiered tray as a hot chocolate station or tea station.
Include some sweet treats to go along with the drinks such as clementines, candy canes and chocolate.
36. Master a Charcuterie Board
Charcuterie boards just seem to go with the holidays and there are so many different types you can make…
Classic meat and cheese (although I'm vegan so this wouldn't be my choice)
A vegan version with vegan cheeses, mushroom pate, grapes, nuts, figs, hummus, crackers, bread, apples, etc
A dessert charcuterie (yes please!)
Hot cocoa board
Make your own smores board
Candy board
You can even make a beautiful Christmas tree board. See below!
37. Make cinnamon rolls on Christmas morning
This is a nice holiday tradition that your family will love. If you don't want to make them you could even buy some on Christmas Eve and then warm them in the oven on Christmas morning. No one will know!
More Ways To Have a Hygge Christmas
38. Embrace The Winter Season
Many of us stay couped up inside during the winter, but to fully embrace the season look for ways to get outside. Once you get in, you can then experience the bliss of hygge while you warm up.
So get outside and go for a walk, visit some outdoor markets, and wander around some neighborhoods. And if you like, pick up a new winter activity this year – snowshoeing anyone?!
39. Practice Gratitude
When you look for things to be grateful for (regardless of the time of year) you'll soon feel more contentment in your life.
How Do You Embrace Hygee Over The Festive Season?
Will you try one of these ideas or do you have other cozy hygge Christmas activities you love to do? Share in the comments below to inspire others 🙂
Final Thoughts
I hope these ideas have given you inspiration to get in the Christmas spirit and bring some hygge into your life.
Remember, hygge is about intentionally enjoying the little things in life, so if there are other ways you might enjoy some hygge incorporate that into the Christmas holidays this year.
Have a very merry Hygee Christmas!
More Inspiration To Have A Hygge Christmas
---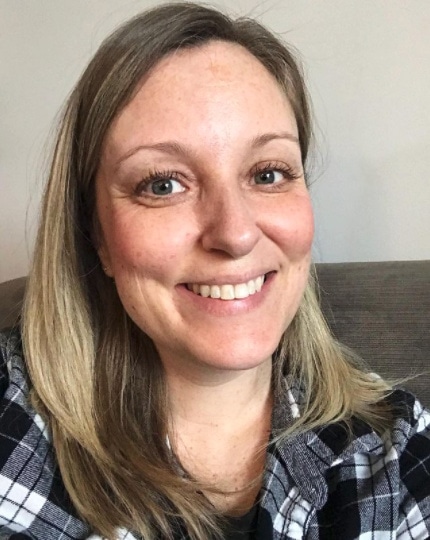 About Yolanda
Website Owner / Content Creator
I'm passionate about helping you live life to the fullest so you can choose to find happiness and purpose. Learn how to CREATE THE LIFE YOU LOVE with intentional living and discovery of the simple things life has to offer. Learn more…
---